Contact Us
30 Governors Way
Topsham, Maine 04086

At Your Fingertips
What are the makings of a vibrant, active community? Part of the recipe is a full calendar of life enrichment programs for you to choose from—created by listening to and learning from you. From exercise and wellness to adventures in the larger community, we provide great sources of joy, excitement and relaxation—each and every day. We're always sure to make time for laughter, connection and friendship, and include those ideals in everything we do.

We encourage everyone—not just our residents but also our team—to lead healthier, more active lifestyles, helping build a culture that celebrates every moment in our journey together.
Life Enrichment Calendar
We offer a calendar as full as you want it to be. Feel free to choose from any number of activities, or just relax in the comfort of home and in the company of friends.
Join Us Anytime!
Aging Gracefully, Your Way!
In May, we are celebrating Older Americans Month. This year's theme "Age My Way" explores the many ways older adults remain and get involved with their communities. At The Highlands we provide a wide variety of opportunities to explore getting involved and giving back. We understand that each resident who calls our community home is unique with their own interests and strengths. It is with gratitude and grace that we support them in all they desire and want to pursue by including a variety of living options, restaurant-quality dining, distinctive services, and engaging life enrichment.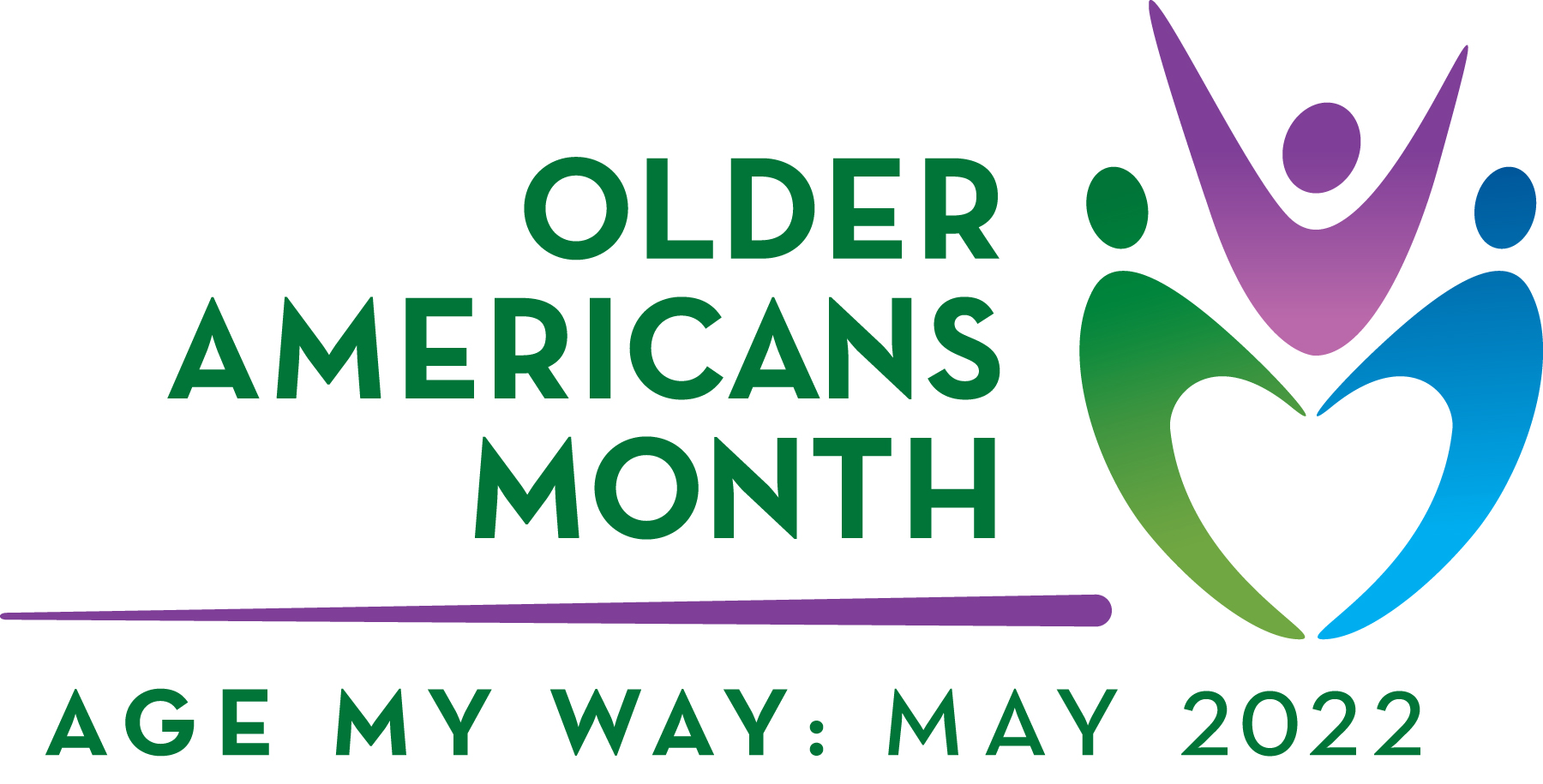 Graceful Dining
Food brings us together. Whether sharing an intimate meal with a best friend or celebrating a special occasion with all your loved ones, we are certain that living here will satisfy your appetite for connection with others and for the most delicious food.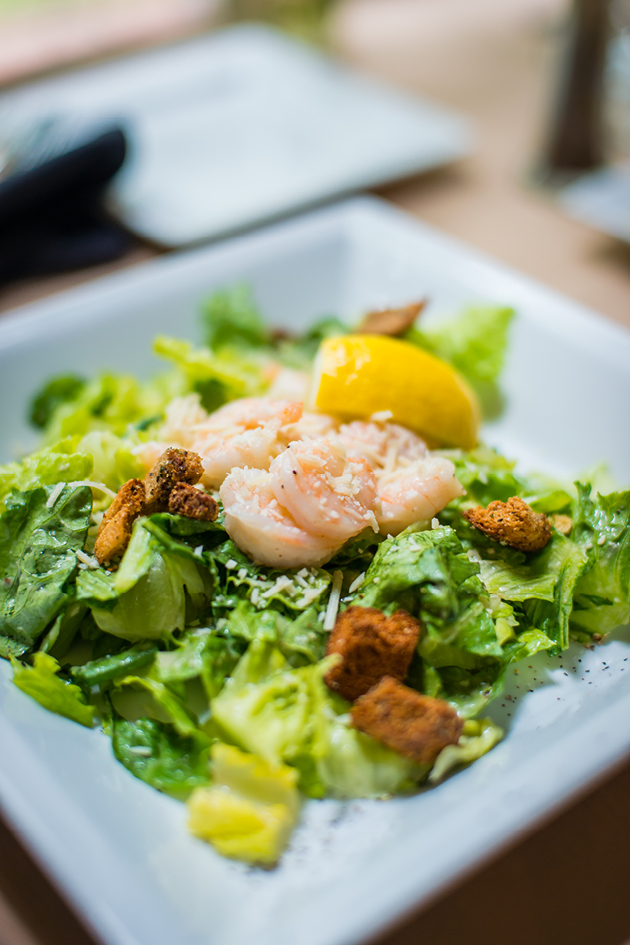 All-Inclusive Dining
What time is dinner? Whenever you choose. With dining anytime, incredible menu items and multi-venue options, you can savor the day on your own schedule. Whether you are an early riser or late sleeper, our program provides the flexibility to meet your unique lifestyle. You'll always have a seat at the table.
Download Sample Menu
Health & Wellness
Living well can mean lots of things. It's seizing opportunities to connect with others, explore interests, grow spiritually and nurture a healthy lifestyle. It's being part of a community where you feel valued and welcome. At The Highlands, we provide all the ingredients our residents need to live up to their full potential. From fitness lessons to therapeutic programs and everyday activities that define our vibrant community, everything we do is guided by a sense of purpose.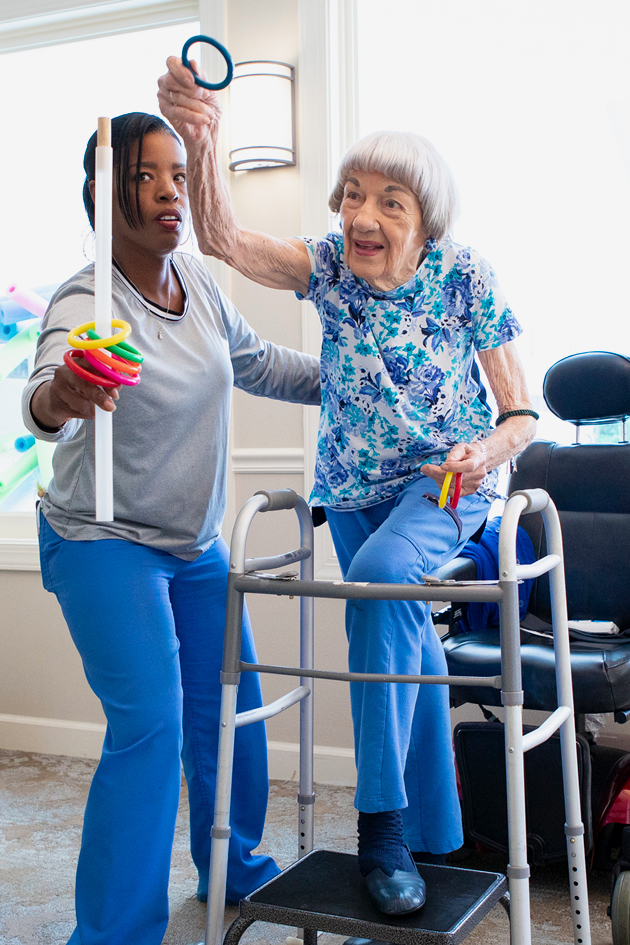 Therapy Partners
Aging is a natural process, and one that presents both joys and challenges along the way. Sometimes we need a little extra help, which is why our community partners with therapy providers to ensure mobility stays high and stress remains low. We have carefully selected partners who are known for their therapy skills, tailoring programs to meet your individual needs. Guided by professionals who have experience working with a range of issues, we help you get the compassionate and convenient care that helps you live your best life.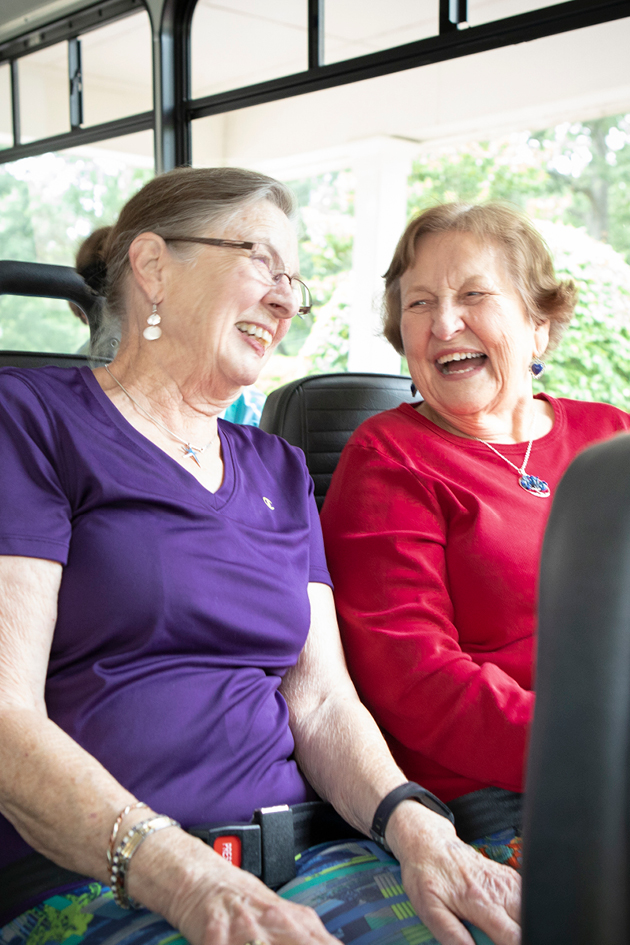 Transportation
From around your neighborhood to out in the town, we want you to live your life to the fullest. We welcome you to explore nearby attractions and events at your leisure and ensure that your travel is safe and convenient. Whether it's to attend medical appointments or enjoy the local flavors and shops, we connect you with transportation you can count on.
Friends of The Highlands Trails
1. Come walk with me
The mission of The Friends of The Highlands Trails is to advance a model of thoughtful use and create recreational and educational trails that are cared for by the people who use them.
There are many reasons to walk the trails here at The Highlands. Perhaps you just want some exercise and get your heart pumping as you wind your way down into the ravine and back up again. For many, a trail is an entry into a different world, a chance to slow down, to observe, to gain the benefits of time out-of-doors.
If this is why you are walking here, then this interpretative path is designed for you.
The numbered posts along the path are keyed to descriptions that may be accessed by using the QR codes on each post.* They draw your attention to specific things of interest as well as ecological processes that tie us into the network of life.
Linger along the trail. Look into the woods on each side of the path as you go along; note what is underfoot; listen for the sounds of other living things; inhale the aromas — of woodland flowers, trees, decaying matter; feel the textures of bark or leaves. In other words, explore with all your senses to become familiar with all the life here.
As you wander along the trail, consider how the life found here is part of a complex system - and that you are a part of it.
These trails are maintained by The Friends of The Highlands Trails; the numbered posts were made by Dave Vancura; text was prepared by Jackie Cressy; individual plant signs were provided and placed by Allen Cressy.
Thank you to the many residents of The Highlands and the wider community who collaborated to create the trail and descriptions.
*Hard copies of these descriptions are available in the Library.
2. Alien Invasion
This spot has a prime example of an "exotic invasive"—Japanese Barberry. This deciduous shrub with its attractive arching branches, pale yellow flowers, and decorative red fruit was introduced to the US in the 1860s and has run rampant over the New England landscape. Note the simple spines that adorn the stems. This plant can be seen in many places on The Highlands trails and may have originated from foundation plantings done before this plant was placed on the Maine banned list.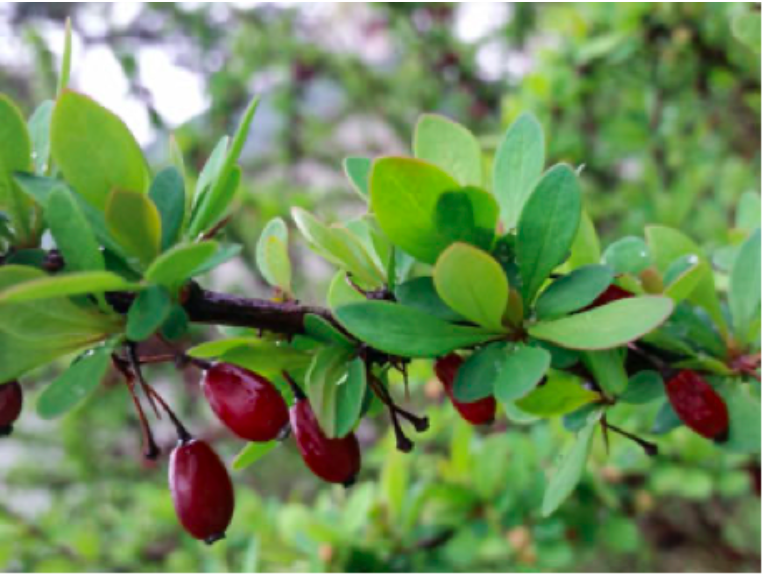 So what makes this plant an "exotic invasive?" "Exotic" just means that it is not native to the area in which it is found. "Invasive" refers to its ability to grow in a wide variety of habitats and out-compete native shrubs that would share similar locations.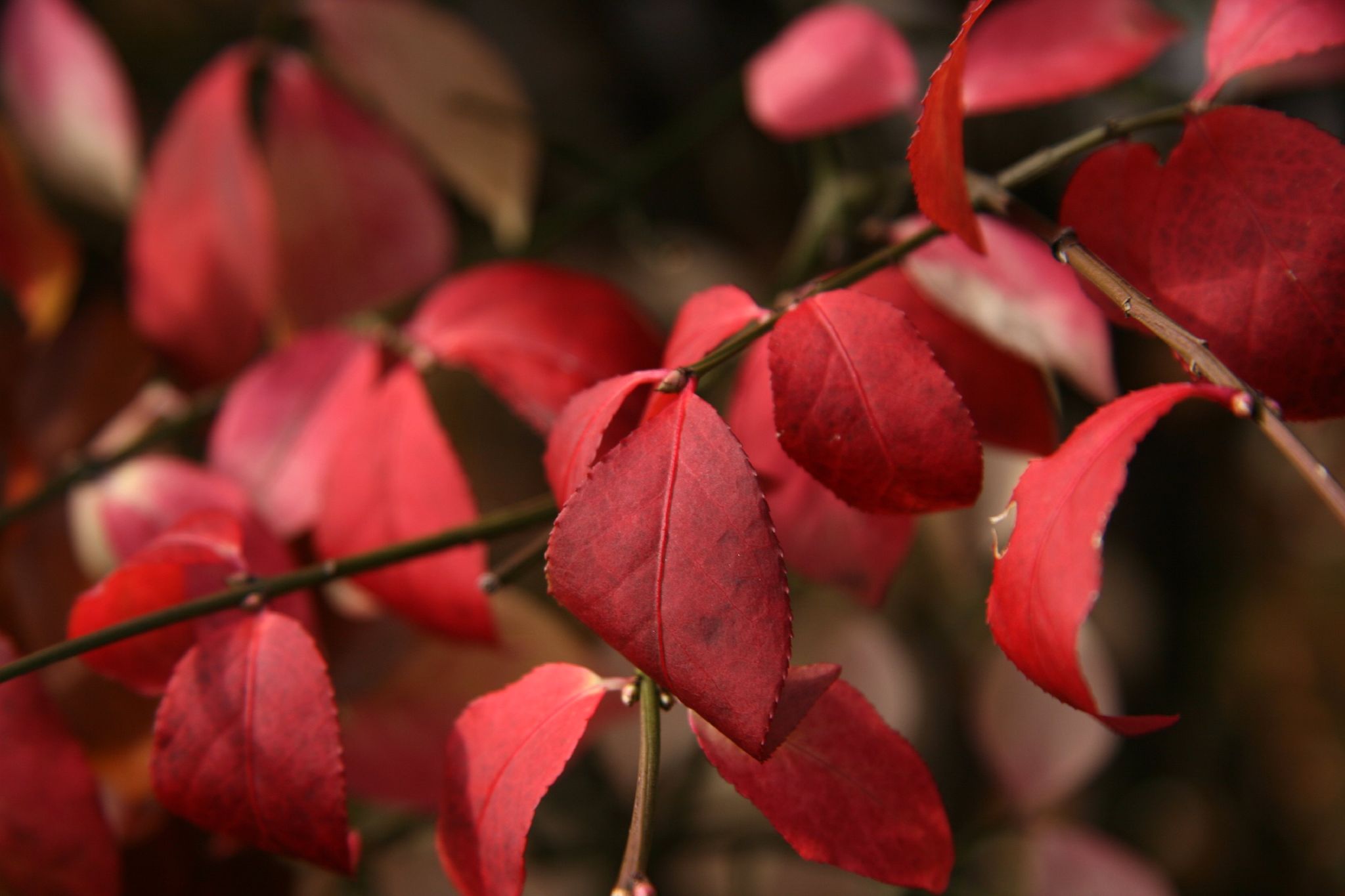 Barberry has several specific characteristics that make it a big problem here in New England:
Its seeds are dispersed by birds and other berry-feeding animals, often far from the original location.
It has a sexual reproduction system which only requires one plant, as both male and female flowers occur on the same plant.
It is a master of asexual reproduction; sprouting from broken or cut stems, root suckers, and stem layering are all ways barberry increases.
Its spines are a great deterrent to predators that would chomp on the stems.
Barberry fruits can remain on the shrub all winter; the longer the fruit persists, the greater its advantage over other plants.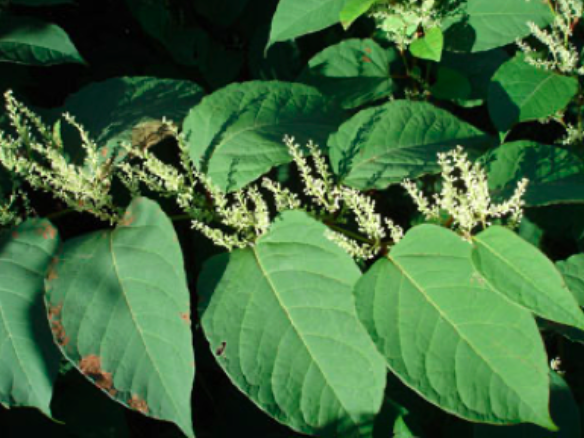 Note: Many of our favorite garden plants can be called exotic, because they did not originate here, but most of these do not have characteristics that make them invasive.
To learn more about this alien and recommended ways of controlling it, Click Here
For species of particular concern in Maine, like burning bush, oriental bittersweet and Norway maple, Click Here for printable fact sheets on each species listed.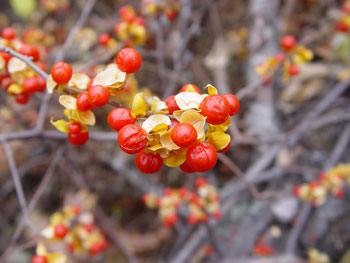 Asiatic Bittersweet exists in only one spot here - DO NOT MAKE A WREATH FROM IT!
3. Plants from the Time of Dinosaurs: The Ferns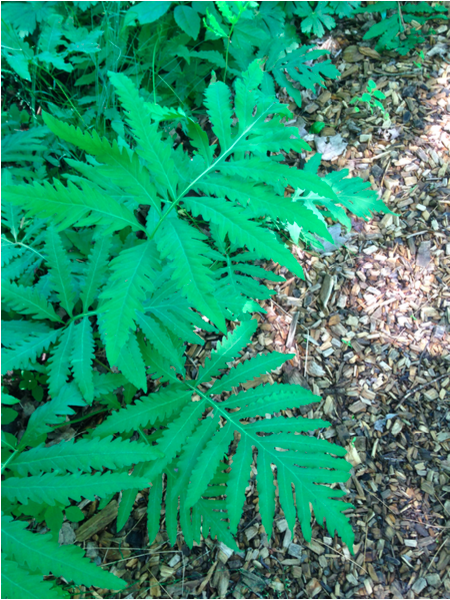 Near this post you can observe a few species of some of the oldest plants still surviving on our planet. First appearing over 300 million years ago, ferns are largely responsible for the deposits of coal and gas that have fueled our economy for so long. (Every time you drive your car, you're using fossilized ferns to reach your destination.) Ferns dominated the land before the rise of flowering plants and managed to reach magnificent proportions, many over one hundred feet tall. This period of the Earth's history had a global climate of warm temperatures and high humidity, ideal conditions for ferns to flourish.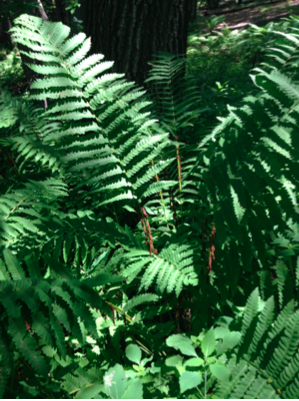 Similar to flowering plants, ferns have roots, stems and leaves. However, unlike flowering plants, ferns do not have flowers or seeds; instead, they usually reproduce sexually by tiny spores or sometimes can reproduce vegetatively. In nature, fern spores germinate in moss, rotting logs, or damp exposed soil in shady locations (such as by a stream).
There are several kinds of ferns along all the trails here. Take time to notice the differences and similarities in their structure, how finely cut the leaves, where the spore cases are located, their particular shade of green.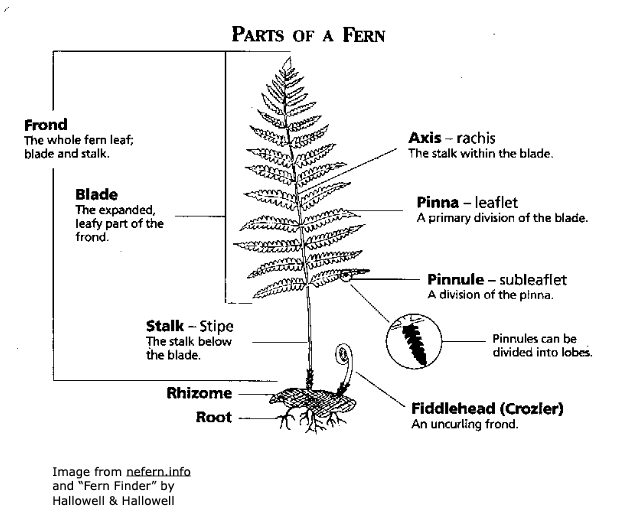 Identification of different fern species requires a special vocabulary. The diagram describes these terms.
A great pocket-sized guide to fern identification is "Fern Finder" by Hallowell & Hallowell, available from Amazon, AbeBooks, Alibris and other on-line vendors.
If you would like to know more about these ancient plants, here are two good resources:
Wildflowers and Ferns
4. X-Rated Trees
Conifers, like our familiar pines, produce seeds that are not protected within a fruit They belong to a large class of plants called the Gymnosperms: gymno from the Greek word for naked, and sperm for seed. Therefore, naked seeds! (The original "gymnasium" was only for men and they exercised in the nude.)
Softwood is a term used to describe all needle-bearing trees. They are typically evergreen, retaining their leaves through two or more growing seasons. This strategy means that the trees do not have to put energy into new leaves each year. They are also well-suited to our soils which are acidic and not very deep. Their root systems are very close to the surface, something to remember when planting these trees in a landscape. The seeds are usually formed in unisexual cones, known as strobili.
There are four common conifers of our northern woods to be found along this trail. Here at this post is the most common one in the ravine, Eastern Hemlock.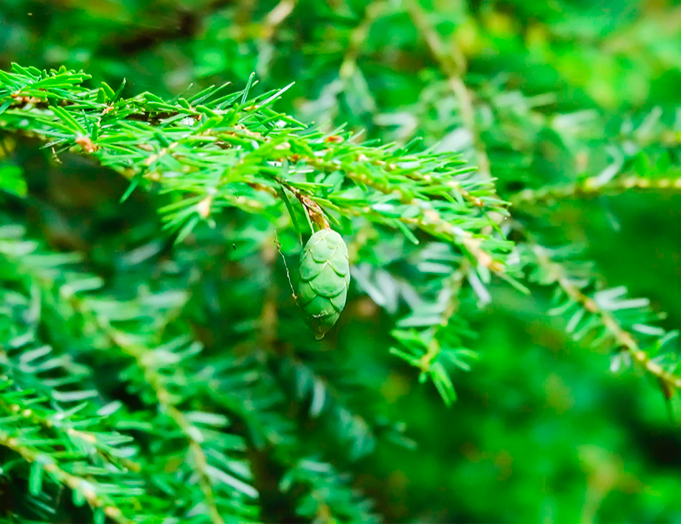 To identify the various conifers, just observe the needles and the cones. Hemlock needles are flat, arranged singly along the branchlets and are only ⅓ to ½ inch long. If you turn over a twig and look at the underside of the needles, you will see two white lines on each side of the slightly raised midrib.
These are actually tiny openings called stomata, and are how gases are exchanged between the leaf and the environment. (Take a look with a hand lens to see the individual holes.) Hemlocks have a much finer, more fragile look overall, and the top of the tree tends to bend over. Cones are small, about ¾ inch in length. Hemlocks are very tolerant of shade.
Not far from this post, just past the junction with the trail that goes up to the school, is another native conifer of our Maine woods, the Eastern White Pine. Its needles are always held in bunches of five. (All pines hold their needles in bunches; the number in each bunch is indicative of the species.) The needles of white pine are 2-6 inches long and appear silvery.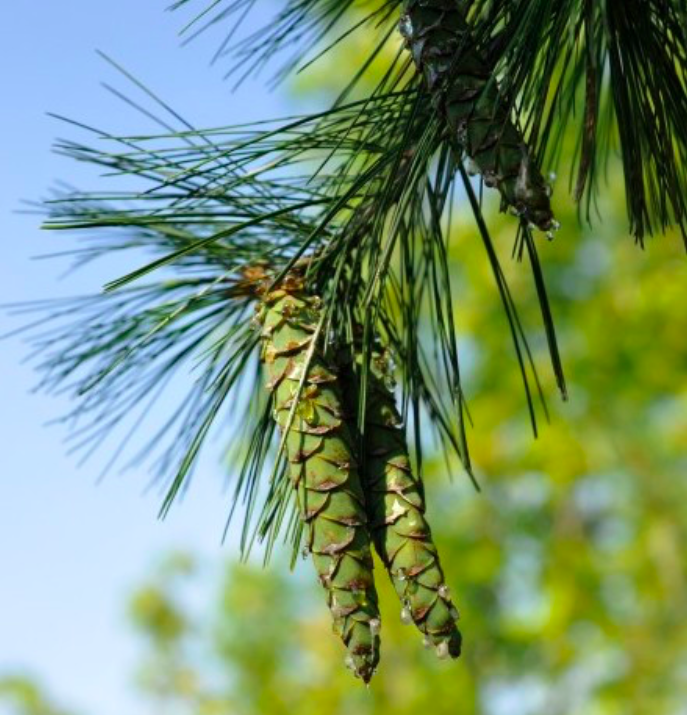 Each tree can produce both male and female cones. The small, clustered male cones produce pollen. Female cones are 3-8" long, curved slightly and have smooth scales; they produce seeds that are favored by black bears, rabbits, red squirrels and many birds, especially red crossbills.
White pines grow best in full sun, though they are tolerant of shade when young, which may explain why there are only a few examples of white pine in the ravine, and many of them are quite small. Under favorable conditions, a white pine can increase in height as much as 24" in a year. You can estimate how old a particular tree is by counting the number of whorls of branches coming out from the main stem.
5. Mosses
As you have been walking along the trail, especially where it goes along the stream, you have likely noticed a lot of low, dense green growth carpeting the ground. Often overlooked because they don't have flowers and are low to the ground, these tiny plants are worth getting to know.
Mosses are ancient plants, dating from 450 million years ago, and have survived and thrived through many drastic changes in climate. They occur on every continent and are the second most diverse group of plants, outnumbered only by the flowering plants.
If you look very closely, you will see that the mat of mosses at your feet is actually composed of many, many individual plants that need each other for support. Each individual plant has a stem and leaves, but no root. Instead it has rhizoids, hairlike structures that anchor the plant to its substrate, be that rock, bark or soil.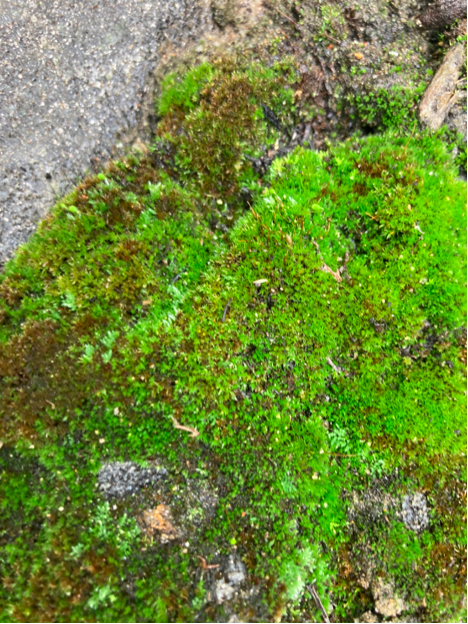 Moss was viewed as a very practical plant in most Native American tribes. Since moss is one of the most naturally absorbent materials available, it was valued for use in bandages, baby diapers and bedding. Dried moss could be used as a firestarter.
Because mosses act like sponges, absorbing whatever water is available through their stems and leaves, their presence benefits other plants by keeping moisture in the soil and maintaining humidity. Moss communities provide microhabitats in which diverse organisms can survive, providing valuable shelter for insects to live, lay their eggs and hunt for food.
So it would be a mistake to ignore these little plants as we walk by them for they play an important role in Maine's ecology.
6. Small and Beautiful
Here by the bridge crossing a run-off stream coming down from the terrace above, there are three small native plants that you are likely to see on trails throughout our area—if you are looking closely. They frequently cover the ground beneath our deciduous trees and bloom in the spring before the leafy canopy limits the amount of sunlight that reaches the forest floor.
The first is a vine with opposite leaves and bright red berries. Partridgeberry is a perennial which blooms in late spring with small fragrant paired white flowers that are joined in a funnelshaped tube.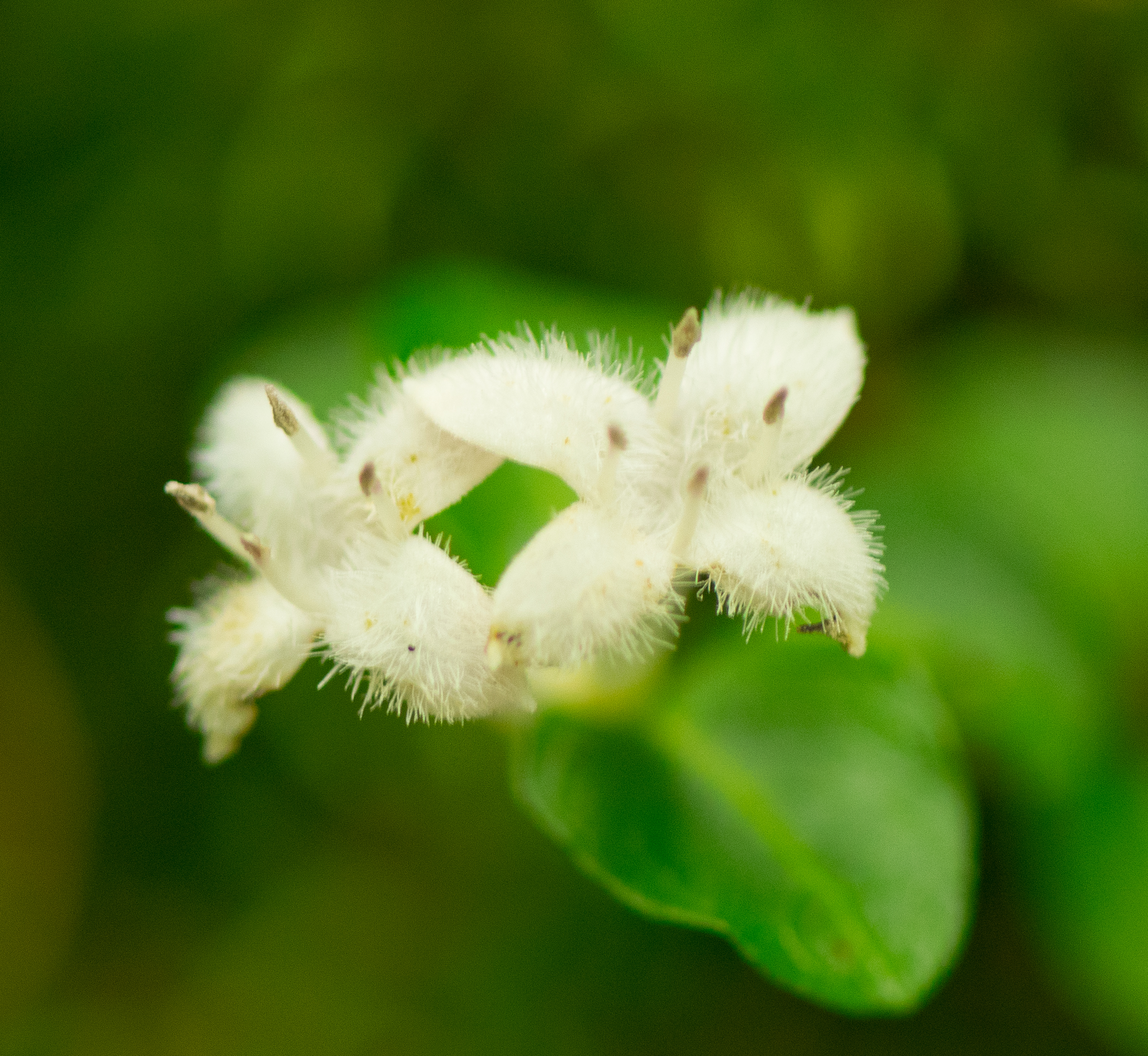 In order to get one berry, both flowers of the pair must be pollinated. Take a close look at one of the berries and notice that it has two dark red "eyes" or "bellybuttons" from where the corollas (groups of petals forming the flower) were joined fairly close together.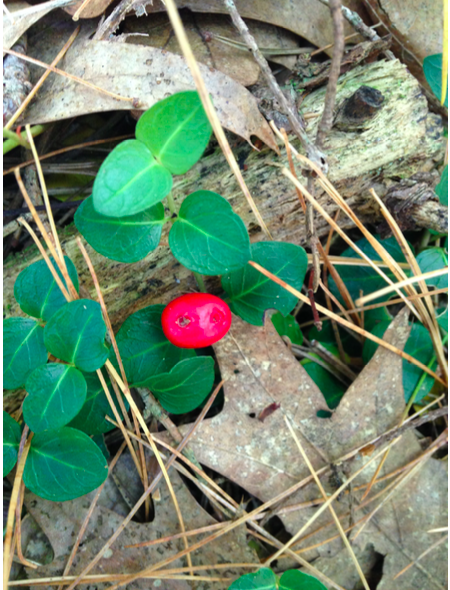 The berries are edible, though rather tasteless, persisting through the winter into the following spring. They are eaten by many birds.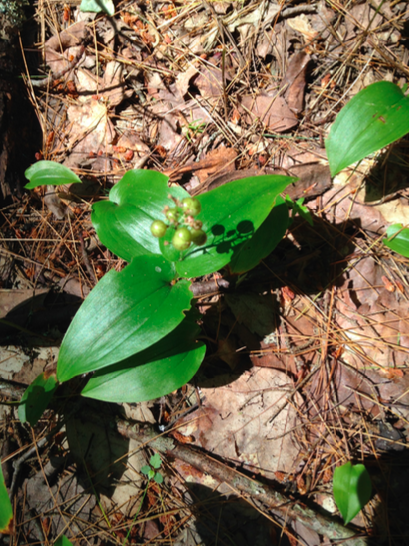 Canada Mayflower is also a widespread ground cover in our woods. In May, the tiny white star-shaped flowers appear in upright clusters on separate stems. The pale-red ripe berries are also in clusters. Note that only the plants that have at least two leaves produce flowers and fruit. Reproduction requires lots of energy, so new plants with single leaves don't have enough energy to make flowers and fruit.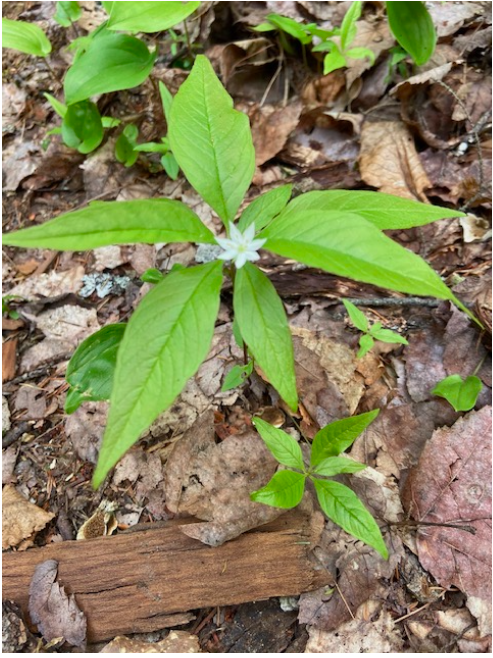 Starflower is a third spring-flowering native found here. Like the other two described already, it is a perennial common to our woodlands and occurs in both deciduous and coniferous forests. Its leaves are simple, occuring in whorls of 5-9 white petals at the tip of the stem. Starflower generally goes dormant in mid-summer with the leaves yellowing and then falling to the ground so that all that is left is the stem with 1 to 2 tiny seed capsules ripening at the tip.
It is not unusual to find these three plants together as they have similar requirements for amount of sunlight, moisture, and soil acidity, and can tolerate a range of such conditions. They aren't showy, but play an important role in the ecology of the forest.